The Desert Haveli Guest House Jaisalmer
Be a part of the Indian history by staying in the fortified ambiance of this 450 years old wonderful guesthouse, strategically situated in the national monument the Golden Fort of Jaisalmer, at the highest altitude in a beautiful bastion which is the best example of Jaisalmer traditional architect
There are Queen deluxe and King super deluxe rooms. experience, enjoy & feel the olden memorable life style with either the breathtaking views of the desert or the city. This is the world famous golden fort for which Jaisalmer is attracting tourists from all over the world.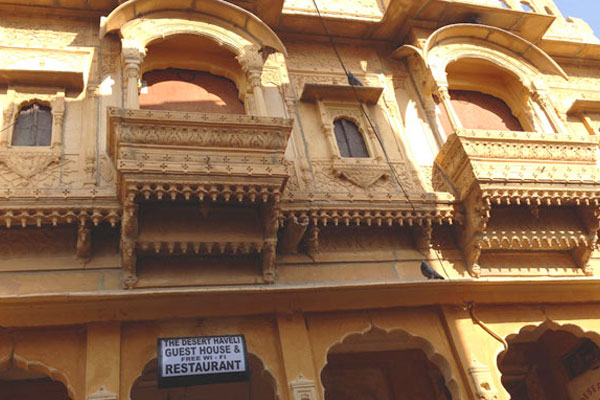 comprise of deluxe hotels as well as heritage hotels. While touring Jaisalmer, one may rejoice staying in this palatial and magnificent heritage hotels that cater to the luxury and comfort of the boarders.
1.Hotel Information
The rooms of the Jaisalmer Desert Haveli Guest House are rich in characters, comfortable and are decorated in a luxurious traditional style.All of the rooms feature modern en suite bathrooms with running hot and cold water. The rooms are outfitted like traditional guest house, and they feature beautiful windows overlooking the sunrise and sunset. Some of the rooms also offer balconies where guests can relax in the sun and fresh air. and down to city side one get the opportunity to watch different daily activities of different classes of crafts man and many other natives living in their traditional style, staying on the meandering /magical streets.
2. Location
We are located in the national monument the golden fort of jaisalmer,to locate us,is very much easy,just reach in side the fort`s main square and trace the path for Jain temples campus(one minute walking distance)just before the entry to jain temples campus there is a closed ended small beautiful street, in the end of this street on the left side welcoming proudly the guests.
3. Jaisalmer Hotel"s Gem. The Desert Haveli Guest House
Staying here is essential because one can experience the soul of the Jaisalmer. This fort bears the blessings of God the lord Krishna (history says & many traces are still in the fort proving the the historical story. You can realize mentally, physically ,spiritually & emotionally the fact that how wonderful,virgin traditions ,conventional social -religious customs -systems of desert city jaisalmer is having a great attraction for tourists of whole of the world and compelling to visit again and again...